I've mentioned before that learning Japanese has opened new doors for me in a lot of different ways, including introducing me to new and incredible people. Recently, I met one of the girls who's also studying abroad with me in Japan! We're going to the same school and studying the same material, so we instantly clicked when we met. Both of us love the Japanese language, and it's so fun finally having someone to talk at length with about the language.
After meeting her, she introduced me to her friend who's a Japanese exchange student studying at the community college in my city. I will refer to her as S, and my other friend will be known as C. Anyway, this weekend we met up for ramen and some exciting adventures! We met up on Sunday night because I had to go into work at 1am (ugh), so it was their plan to help me stay awake so I could tackle my ridiculous shift. I'm forever thankful. 💜
First, we met up at Jinya's Ramen Bar, which has some incredible ramen. I tend to order the spicy tonkotsu ramen, but I get it extra hot. 🔥 My lips were burning by the time I finished, but it was so worth it! C ordered a non-spicy ramen, but told our waiter, "I want it so spicy it makes me cry," which got a laugh out of S and me. Prior to sitting down, we'd been talking about the Korean fire noodle challenge, so I think C felt inspired to order something that was similar to this. Her ramen was so hot that she did cry! 😱 It was even hotter than my ramen, ha.
S was the smartest of us three and ordered the least spicy ramen, which meant she was the first to finish and wasn't frantically sipping her water! My mom wants me to take her to Jinya's someday, and I can't wait to see what she chooses to try. 😉 I'll have to teach her the art of chopsticks…
After ramen, C and S decided we needed to go to a boba café because I'd admitted over dinner that I'd never actually tried boba before. It just didn't seem like my cup of tea, no pun intended. But since I was open to trying new things at that point and was having fun, I drove us to their favorite café nearby the ramen restaurant.
I had S order for me since I had no idea what to order (seriously, their menu was so long!), and she ended up ordering a really basic milk tea for me that she said was her favorite. If you're not sure what boba is, it looks a bit like this: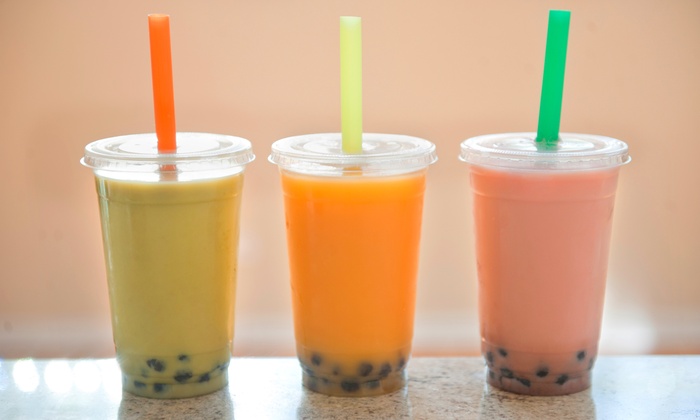 It's essentially bubble tea which contains a tea base shaken or mixed with fruit or milk, and chewy pieces (like fruit balls) are added at the bottom. I was surprised I actually liked it! I'm usually not the biggest fan of teas, but I really liked what S picked out for me. I was also surprised I was a fan of the squishy jellies at the bottom since I'm not usually a fan of squishy textures. I'll definitely try it again, but I'd like to try more flavors! 😁
After this, we headed to Crown Bakery! It's definitely got the aesthetic thing going on, and it was comfortably warm inside. The seating was really neat and I felt like we could all sit together without being three feet away from one another. At Jinya's, the tables are really wide so you're far from the people across from you!
It's a Korean bakery, and a few of their sweets are Korean-inspired, but I ended up buying a small pack of 3 chocolate macarons since I wasn't too hungry after ramen and boba. We were really there because it was 11:30pm and nothing was open anymore, but it was a great place to stop in!
They also had Hello Kitty macarons so…win-win. 🎀
Featured image found on Crown Bakery's Yelp! page.